​The goalkeepersstore in the city of Papendrecht is opened on wednesday 13:30-17:00.
Friday 17:00-21:00 and saturday 10:00-17:00.
The online webstore is always opened. Please check our Dutch site to see all the articles
​ ​
goalkeeper Gloves

No football without keeper, no goalkeeper can do without goalkeeper gloves. Tp pick the right material is no easy task, for which you should all do not pay attention to? An important discision has to be taken between goalkeeper gloves with and without finger save. Choose to protect your fingers or for optimal feeling with the ball by choosing gloves without finger save?

Good finish, good goalkeeping gloves

You can still have such a good goalkeeper, if you hit the ball with bare hands must parry, it is still a difficult story. Goalkeeper Gloves are not just a luxury, but above all an absolute must. If the ball is wet, you know as a goalkeeper like no other that you have to be alert. A mistake is easily made, right? Not if you have goalie gloves with good grip! Have your goalkeeper gloves with good grip, you should note that the grip decreases as you complete more games and practices.

Information and brands

An important part of the goalkeeper glove, the foam. The expensive gloves have foam that provides good grip. Unfortunately, these goalkeeper gloves also tend to be more vulnerable. Also, the shape, or "cut" of the gloves is important. A classic cut for large capture range, a roll finger cut for a perfect fit or a negative cut for optimal ball contact: everything is possible! We have both junior and senior goallie gloves from various top brands, such as Aviata, Reusch, Sells, The One Glove Company and Uhlsport.

Competition or training?

Many keepers choose to work with two pairs of goalkeeper gloves, a pair of goalkeeper gloves for training and a couple of matches. The advantage is that you always have competition gloves of top quality. In the matches you want to perform optimally, and for that you need goalkeeping gloves that are in good condition.

Whether or not to finger save?

Goalkeeper gloves with finger-save protect your fingers against overturning, for example, when you tap a shot from the corner. There are also keepers who prefer to use gloves without fingertips save, because they have maximum freedom of movement. It is a matter of taste: both variants are available!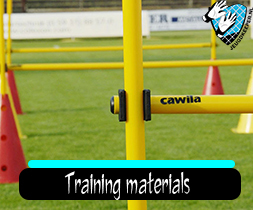 ​
New in our online shop
-10%

UHLSPORT TEAM PRO ESSENTIAL VOETBALKOUSEN ZWART

Productinformatie:

∙ Stretchzone op de kuit en onder de enkel voor een optimale pasvorm
∙ Uhlsportbelettering op de voet
∙ Elastische zone op de enkel en bij de opening voor betere fixatie
∙ Katoenen voet

Materiaal:
70%…

€ 12,99 € 11,65

-50%

UHLSPORT ESSENTIAL GK PANT NONPAD

Productinformatie:

∙ Keepersbroek zonder padding
∙ Geen vervelende zakken
∙ Smalle pijp
∙ Uhlsport logo op het linker bovenbeen

Materiaal:
100% polyesterMaat:
XXS/XS (140) Binnenbeenlengte 67cm / Taille 34cm 68rond
XS…

€ 40,00 € 20,00

STANNO HIGH IMPACT SOCKS BLACK

Deze High Impact Goalkeeper Sock is speciaal ontworpen voor keepers en bevat drie lagen van gevoerde versteviging voor optimale bescherming tegen blessures. De sok heeft een gebreide mesh-structuur aan de achterzijde en een…

€ 17,50

-10%

The One Glove Apex Magma

The APEX series embodies everything its namesake represents. A force to be reckoned with that sits at the top of the goalkeeping food chain. An elite glove that helps unleash that raw instinct upon your six-yard box, elevating…

€ 61,05 € 54,95

-10%

Uhlsport Absolutgrip Tight HN

UHLSPORT ABSOLUTGRIP TIGHT HN∙ Gepatenteerde ABSOLUTGRIP voor verbeterde demping en uitstekende grip in alle weersomstandigheden.
∙ Strakke snit met semi-negatief gesneden vingers zorgt voor een optimale pasvorm.
∙ Neopreen…

€ 80,00 € 71,99

New

-10%

-10%

-50%

-10%

-10%

Uhlsport Super Resist+ HN

UHLSPORT SUPER RESIST+ HN∙ FOAM:

∙ exclusive abrasion-resistant SUPER RESIST+ latex

FEATURES:

embossed REBOUND ZONE provides flexibility and perfect punching

CLOSURE:

wrap-around latex strap and full bandage for good…

€ 69,99 € 62,99

-10%

Uhlsport Soft Resist+

UHLSPORT SOFT RESIST+∙ FOAM:

∙ exclusive abrasion resistant SOFT RESIST+ latex

FEATURES:

embossed REBOUND ZONE provides flexibility and perfect punching

CLOSURE:

wrap-around strap and full bandage for good wrist…

€ 34,99 € 31,49